A Few of My Favourite Horsey Things
I often get asked for my recommendations for horse equipment: from what saddles I ride in, to my favourite fly spray to use, and everything in between.
In this post I will share with you some of my favourite horsey items, in no particular order:
I have experimented with lots of different treat pouches, from cheap ones from Kmart, to expensive special made ones from Germany! I have tried The Trainers Pouch, Retier-Tasche, various bum bags, dog-training pouches, and more…but NOTHING beats this wearable treat pouch I found on amazon. It is the only pouch that does not bounce around when I ride! It stays close to my body, doesn't stand out too much, and is comfortable to wear. There are fifferent compartments, so I usually put my treats in the front and my phone/pivo controller in the back. There are no clunky zips so you can quickly access your things, but things still stay really secure. I wear a size small and I am usually an Australian size small/8 in the clothes.
Highly recommend if you use treats in training! I have actually considered buying a few of them to stock up in case they ever stop selling them!
Click here to get your treat pouch now.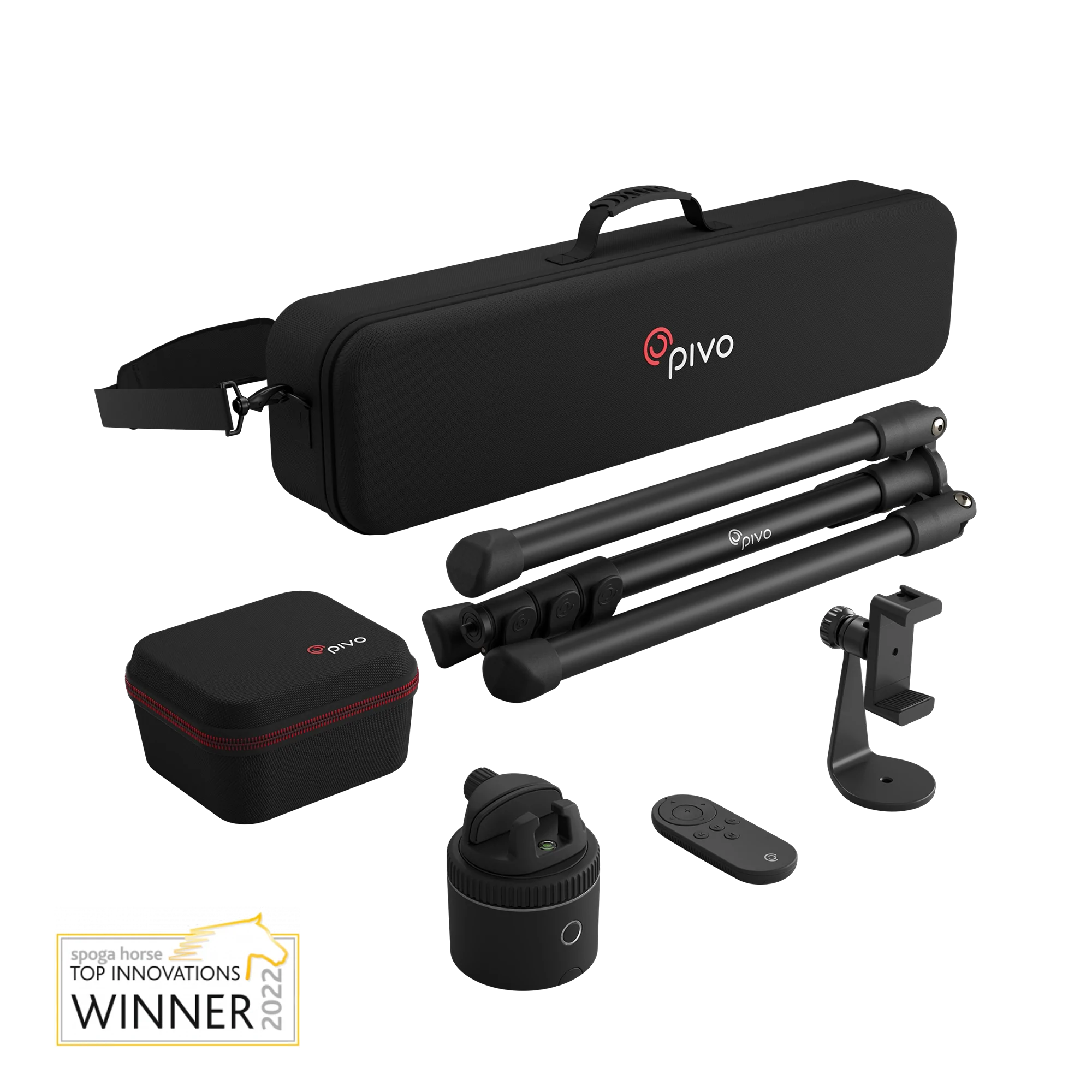 If you are an equestrian and you dont yet have a Pivo, RUN AND GET ONE NOW! They are an absolute must have in my books, and I use mine every single week (I have to restrict myself from not using it every day because otherwise I waste too much time watching and re-watching footage).
Basically the Pivo is a device that helps your phone film and track you as you ride. It automatically locks onto your horse, and follows you as you ride. I have tried other, more expensive, options like the Pixem/Pixio, but the Pivo is much better in my opinion (I actually sold my Pixem) - because it is wayyy more convenient to set up, is less temperamental. The only downside is you have to stay relatively close to the camera (within 40m depending on environment). And currently you can only film in landscape not portrait mode but I think this will change in future.
I love using my Pivo to film my rides so I can look back and kind of coach myself. The 'Pivo Pod Equestrian Addition' has everything you need including the tripod and phone attachments which are a must if you film with your phone.
You will not regret purhcasing this and it will help you improve for many years to come!
Click here to get your Pivo now!
This might seem like a bit of a strange recommendation for horsey items but bare with me!
I like to do groundwork & ridden tasks that help to improve my horse's balance and proprioception. Having horses stand on foam mats is one of those tasks! It challenges their balance, and gives them lots of sensory information through their hooves. Plus it's a fun obstacle to play with!
It's important you get a foam mat that is durable, thick enough, and large enough for horses (don't be fooled by cheaper alternatives). The one I bought is 3m long and 1.2m wide, and 5cm thick! I thas been out in the weather and had horses paw it/stand on it for ages and it is yet to break!
Click here to get your foam mat now.
I love a bargain! When I first saw these hose attachments specifically branding for horses, I wanted one but I wasnt prepared to pay the $80 for one… call me stingy! But I really do feel like sometimes when it comes to horse things, brands will add extra $ to the price on top just because it's a horse related item.
After some digging, I found the same product on amazon and it works brilliant! Basically there is a toggle on the hose attachment which means you can switch from using purely water, or a shampoo/water mix when washing your horse. It really helps apply an even layer of shampoo to your horse! Plus you can also use it with conditioner or even a coat oil for your final layer. I love it! Wouldn't go without it now!
Click here to get your hose attachment now!
Otherwise known as a 'oh-shit' strap or 'jesus' strap LOL! Basically a neat piece of leather that attaches to the front of an english saddle for those inevitable moments where you need to hang on quick! Of course, we want to avoid those moments as much as possible, but I like the peace of mind of knowing that the monkey strap is there if I need it (I wouldnt want to pull on my horses mouth by accident). Plus, I also use it to help me get a better feel for a sit trot, or establisha deeper seat without gripping with my legs, just by slipping one pinky finger in the strap.
Click here to get your monkey strap now!
I love to spend undemanding time with my horses to add points into the relationship bank account. One of the ways I like to do that is finding their itchy spots! These grooming gloves are a way I can do that without getting my hands too grubby- plus the horses loooove the feel of them! Again, you can find really expensive 'horsey' versions of these, but the generic ones off amazon are exactly the same wihout the bougee label.
Click here to get your grooming gloves now!
Do you ever struggle to get sprays on your horse? Struggle no more! This genious little hack will help you get even the most potent of sprays on your horse without fuss. I use fly sprays religiously in summer because in Australia the flies suck basically haha. The horses really dont like the smell of it. So instead, I have one of these handy little dish sponge handle thingies, and I just pour the fly spray liquid in, and massage their face with the sponge- easy peasy! Just make sure you pull of the exfoliating scrubber (airly easy to do just with your hands), so its a soft surface you are using.
Click here to see a reel on me using the dish sponge handle thingie in action!
Click here to buy your dish spinge handle thingie now!
(Also, on the topic of fly sprays- I have tried the natural ones and unfortunately they just dont work for my horses so I use the Troy or Repellex Fly Sprays from Horseland)
Best gloves, hands down. I have used Roeckl Gloves brand for years and have a few different colours. Whilst I alternate between riding with and wihtout gloves, I really like to use gloves when it's sunny to protect my hands from sunburn (otherwise I get a serious hand tan LOL!) or when it's super cold in winter. I also like to use them with young or green horses on the ground to reduce the chances of rope burn which I have had when horses have pulled away very quickly. I have tried cheaper alternatives but they just don't last as long, and usually the velcro isnt as strong which is really annoying. Plus Roeckl gloves work with smart phones also. Love them!
Click here to get your Roeckl Gloves now!
I am really careful with my leather products, especially my saddles. It annoys me when stirrups leave dents in the leather so I always use a pair of stirrup covers/stirrups savers. I normally use polar fleece stirrup covers but I recently saw some neoprene stirrup covers which I have purchased and waiting for them to come in the mail.
Yes, it does take a little longer to put my saddles away but I have piece of mind knowing that the leather is protected. I also use plain fleece saddle protecters on all my saddles.
Hay House
In winter 2022, I bought, what I call, a Hay House! And I LOVE IT!!!
It keeps hay dry in the winter so I don't have to put out hay every single day. My horses live out in a large paddock and I speicifcally had 3 holes cut so they each had their own section to munch from. Its basically just an upside down rainwater tank with 3 cutout arches. I ordered mine from someone who makes them locally (Gary, Macclesfield South Australia- 0439 008 940- please let him know that you found out about them through me!)
I still use a slow feeder hay net over the hay (a round bale sized net from Aussie Grazers), and I have the hay suspended on a pallet to avoid wastage.
Love my hay house- it has saved me so much time and money in the winter months!!!
LeMieux Products - Boots + Saddlepads
I am a big fan of LeMieux! I use their saddlepads and boots, and feel they are a reliable brand you can trust!
I don't always use boots on my horses but when I do, I love these LeMieux Brushing Boots because they are lightweight, breathable, easy to use and clean. I use their jumping boots also- the LeMieux Derby Projump Fetlock Boots (hinds) and the LeMieux Derby Projump Tendon Boots (fronts).
I'm not a matchy, matchy obsessed equestrian (but if that is your think leMieux definitely has you covered!) I use LeMieux Suede Saddle Pads - I have a few different colours but mostly use white because it's most versatile. It's like wearing a black dress - no one notices if you were it to a few different parties LOL! I find these saddlepads to have the nicest shape and material, plus I like the different options for threading your girth points through. They are not too thick or too thin- just right! They do wash well also (don't tell the non-horsey husband that I put them in the washing machine!) Every equestrian needs a collection of these!
If you know me, you know that I am a big horse nerd and have read 100's of books on horsemanship, horse training, rider biomechanics, horse stories, horse healthe etc. etc.
I have put together a books and resource list that has my recommendations, a long with the recommendation of those guests from The Horsemanship Breakthroughs Podcast.
Click here to get your hands on the booklist for free!
As I write this blog, I am currently reading Andrea Wady's "Crossing Bridges"- a true story of a wonderful women and her friend who took two broken down horses on a trek across Costa Rica, and learnt so much about themselves and horses in the process.
Thank you for taking the time to read A Few of My Favourite Horsey Things! Please note: As an Amazon Associate I earn commission from qualifying purchases, which means if you buy anything from any of the above links, I get a small percentage of the sale :) Thank you kindly for supporting me and making the world a better place for horses!
*********
EXTRA RESOURCES TO HELP YOU AND YOUR HORSE:
Discover a deeper connection & communication with your horse with this free mini-course at www.amaliadempsey.com/ccmc
Sign up for weekly Horsemanship Breakthrough emails, where each week I send you a little bite-sized horsemanship breakthrough that has helped me on my journey, in the hope that it will also help you with your horse. Just go to: https://www.amaliadempsey.com/breakthroughs
Get a list of all the books & resource recommendations mentioned in the podcast here: https://www.amaliadempsey.com/booklist
Improve your rider biomechanics through unmounted exercises with these 10 Free Rider Specific Exercises to improve your riding at: https://www.amaliadempsey.com/exercises
And if you're ready for a complete riding transformation through exercises join the 8 Week Rider Specific Exercise Program at:
https://www.amaliadempsey.com/8-week-rider-specific-exercise-program
Say goodbye to stressful trailer loading with the $9 30-minute Trailer Loading Success Roadmap: https://www.amaliadempsey.com/offers/TCmLdE2o/checkout
Want your horse to be happy, calm, trusting, confident on the ground and riding? Join Horsemanship Fundamentals Academy, where I teach you how to achieve this and more with your horse: https://www.amaliadempsey.com/Horsemanship-Fundamentals-Academy
No matter where you are in the world I can help you and your horse through online coaching. Click here to book your session: https://www.amaliadempsey.com/onlinecoaching